FLOORTEC PE-Xcellent 5
The new VOGEL&NOOT PE-Xcellent 5 Pipe now brings even more installation confidence for the FLOORTEC underfloor heating complete system and makes the job a real pleasure. Highest installation security, extremely low wear and tear plus outstanding corrosion resistance are the benefits assured by homogenous production, the 5 layer system and the internal oxygen barrier.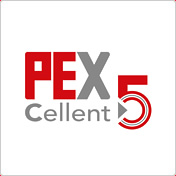 In addition absolute compatibility is assured throughout the FLOORTEC underfloor heatingsystem range. What's more the VOGEL&NOOT PE-Xcellent 5 Pipe fulfils all the ecological and sustainable manufacturing standards to perfection: completely safe in processing thanks to beta sterilization, no chemical additives and industrial by-products are used whatsoever.