Product info
There is no other method for laying underfloor heating that is simpler or safer. With the FLOORTEC preformed plate system UNI, it takes only four working steps to assemble the system – without the need to use any tools during the installation.
The support on which the pipes are laid is equipped with foam studs that hold the pipes in place. The heating pipe can be pressed into these studs with ease using your foot. Thanks to the FLOORTEC preformed plate system UNI, laying underfloor heating has never been easier.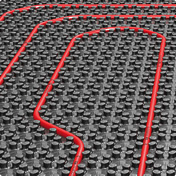 Your benefit: the system features an exact installation pattern in 60 mm laying matrix, this achieves optimum heat distribution analogous to the calculated values.