Product info
The FLOORTEC Grid mat system is used regardless of the design of the insulation located underneath. The grid mat is laid out over the cover sheeting and the pipes are attached to the mat using what are known as grid mat clips. Grid mats are joined together using mat connectors to form a unified surface.
• Clips for pipe dimensions 16/17
• No bending needed for the installation work
• A faster and more efficient installation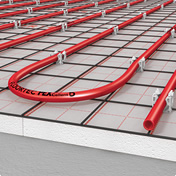 Your benefit: Thanks to the innovative mat connection technology and the grid mat designs available with grid patterns of 50 x 50 mm or 100 x100 mm or 150 x 150 mm, all of the usual installation distances can be achieved.