As a leading innovator, we offer forward-looking heat emission technology for thermal comfort coupled with climate protection.
WE HAVE THE BIG PICTURE IN MIND
"From water distribution to thermal output". Sounds complicated, but it never is – with VOGEL&NOOT.
Because we provide you with superior service in each and every area. As a full-range provider of comfort systems we always meet the highest of requirements.
Each thermal output system has its own specific advantages: Low-temperature radiators heat up quickly. Design radiators look great. Bathroom radiators are multifunctional and our panel heating system is both "invisible" and efficient. And the new "eLINE" electric radiator range now provides even more benefits to the VOGEL&NOOT portfolio.
As a full-range supplier, sanitary installations are naturally a part of this portfolio: The EASYTEC installation system is suitable for both radiators and sanitary integration and offers you a truly great deal.

SYSTEM GUARANTEE AND EASY-TO-INSTALL PRODUCTS
All VOGEL&NOOT systems and system components are 100% compatible with each other, making them the optimal heating solutions for your needs, with a high level of assembly efficiency and flexibility for all planners and installers, and always ensuring maximum user convenience.

YOUR FULL-RANGE PROVIDER
VOGEL&NOOT has produced thermal output systems since 1929 and this means we have nearly a century of success and know-how you can rely on. This kind of experience is a decisive leading edge for our customers in everything we do from combined installation systems to radiators, convector heaters or panel heating systems.

---
QUALITY AS THE INDICATOR OF SUPERIOR SAFETY
EXCELLENT, VERIFIED QUALITY
VOGEL&NOOT radiators meet all the many internationally acknowledged quality standards. The production processes of all production sites are ISO-certified. In addition, the quality and performance figures of VOGEL&NOOT panel radiators are constantly reviewed and confirmed by recognised European institutes. VOGEL&NOOT panel radiators also have the RAL quality seal, documenting their outstanding product quality where other radiator manufacturers on the market back out.
TOP PERFORMANCE WITH THE RAL QUALITY SEAL
The RAL quality seal for VOGEL&NOOT radiators represents the highest level of quality for architects, planners and building owners in terms of processing and operation. These quality benchmarks that are checked by independent institutes ensure permanent safety and the longest possible life-spans.

HIGHEST LEVEL OF CUSTOMER CONFIDENCE
Our customers know what they get - excellent material characteristics, surface quality and robustness with each one of our products. VOGEL&NOOT radiators exceed all the many requirements and standards (such as e.g. the Euro standard EN 442 or CE marking). A sophisticated production process delivers a constant premium outcome, with precise welding, reliable tightness tests and brilliant surface treatment. Delivering products that combine safety and visual brilliance is our business.

LOW-TEMPERATURE SYSTEMS - A MEGA-TREND
Energy-saving legislation has improved insulation standards for years and has brought heat sources with lower and more efficient system temperatures. This is why VOGEL&NOOT offers comfort systems with absolute top performance.
The trend to use geothermal energy, solar energy, biomass and calorific value technology enjoys unbroken popularity. This means the formerly high system temperatures of around 50°C have come down significantly, and we now offer a temperature range that was unthinkable only a short while ago. In the field of building renovation, however (80% of today's building projects), there are some arguments against the use of underfloor heating systems.
A NEW GENERATION OF RADIATORS
For this reason, VOGEL&NOOT has initiated a new chapter with the ULOW-E2 low-temperature radiator. It can be operated with a flow temperature below 40°C and can be combined with underfloor heating systems, thus allowing the optimal use of all its benefits. In 2016 the iVECTOR was launched on the market as a wall-mounted fan convector heater. It has defined new efficiency standards since from the start, especially in the building sector.
BETTER RIGHT FROM THE START - WITH FLOORTEC PANEL HEATING SYSTEMS
Hardly any of today's new buildings can do without underfloor heating: VOGEL&NOOT offers eight different panel heating systems to allow heating system fulfilment all requirements by planners easily and at the same time providing installers with the ideal system type. With a constantly optimised range of components, the FLOORTEC complete system guarantee delivers numerous benefits.
---
FOR A GREEN PLANET
With over 6 billion people, saving resources is no longer a luxury hobby but a vital necessity. VOGEL&NOOT has always accepted its responsibility, as expressed in the ECO quality seal and our company membership in the Climate Alliance Austria.
VOGEL&NOOT is the champion for "green" heat output systems with renewable energies such as heat pumps and solar technology as well as resource-saving heat supply for residential and work areas. It is commons sense that this ECO course makes our company the perfect partner, especially with low and ultra-low temperature products in order to reach the goals of climate protection while meeting all the requirements people have in terms of convenience and cosy heat.
ECO QUALITY SEAL FOR CLIMATE PROTECTION
In low system temperatures in particular, the heat output solutions from Vogel&Noot with their ECO quality seal always demonstrate special operational qualities with renewable sources of energy such as heat pumps or solar technology. This is great news for the environment and for your energy bills.

A MEMBER OF CLIMATE ALLIANCE AUSTRIA
The global goals of saving energy and protecting the climate will only be reached, if renewable sources of energy and low-temperature heat output systems are used. This is why Vogel&Noot is an active member of Climate Alliance Austria.
www.klimabuendnis.at
PARTNER IN THE GREEN TECH CLUSTER
We are a Green Tech Cluster partner. Together with 200 other responsible business and research institutions we are busy designing the green solutions of tomorrow. This Cluster has been repeatedly ranked as the no. 1 among environmental technology clusters worldwide.
www.greentech.at
---
---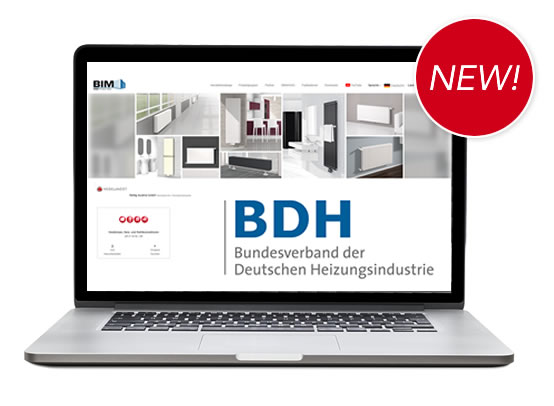 VDI-DATASET
Download our new VDI-Dataset "Radiators and Fanconvectors" from the BDH-Portal.