Production plants
The radiators manufactured by VOGEL&NOOT meet numerous internationally recognised quality standards and the manufacturing processes at all of the production sites have been ISO certified.
United Kingdom
Gateshead
Purmo Group
Eastern AvenueTeam Valley
Gateshead, Tyne & Wear, NE11 0PG, UK
Phone: +44 (0)845 017 8672
E-mail: [email protected]
Germany
Lilienthal
Purmo Group Germany GmbH
Scheeren 8
D-28865 Lilienthal
Phone: +49 (0)4298 919-0
E-mail: [email protected]
Austria
Diemlach
PG Austria GmbH
Gustav Kramerstrasse 5
8605 Kapfenberg
Phone: +43 (0)3862 23801-625
E-mail: [email protected]
France
Villepinte

PURMO Group France
Immeuble Rimbaud
22, avenue des Nations
93420 VILLEPINTE
Tél: 01 45 91 62 00
Fax: 01 45 91 62 99
E-Mail: [email protected]
Poland
Walcz

Purmo Group Poland Sp. z o.o.
ul. Przemysłowa 11
44-203 Rybnik
Oddział w Wałczu
ul. Budowlanych 10
78-600 Wałcz
Hungary
Mosonmagyaróvár

Purmo Group Hungary Kft
Kühne Edeter 2
H-9200 Mosonmagyarovar
Phone: +36 (0)96 886-109
E-mail: [email protected]
Distribution
VOGEL&NOOT's National Distribution Centre at Birtley, Co. Durham is VOGEL&NOOT's main warehouse and despatch facility for the UK and export. The warehouse has over 25,000 square metres of storage space covering the complete VOGEL&NOOT product range from radiators to underfloor heating to valves and towel warmers. On average over 4000 deliveries are made to UK addresses every month using a combination of core and contract vehicles all of which are routed using the most up to date route planning software. 
United Kingdom
Birtley
Purmo Group
Drum Industrial Estate
Birtley
County Durham
DH2 1AB
Phone: +44 (0)845 4023434
E-mail: [email protected]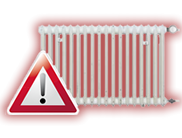 In Europe, more than 40% of the CO2 emissions are caused by buildings. To update the whole heating system is one of the most important measures, to protect our environment sustainable.
cf. Prof. Rainer Hirschberg , VDI Nachrichten, Aachen 2006
Spotlights
Added value with modern low-temperature radiators [Many benefits with panel radiators]

Compatible with all energy sources:
• Range of supply temperatures from between 90 ° and less than 40 °C
• Perfect for the combination with low-temperature heat sources (heat pump, solar energy …)

 

Enormous potential for cost reduction with new buildings & renovations:
• Approx. 15 % less energy costs with replacement radiators
   (as comp. with old element radiators)
• Thanks to high performance, only low system temperatures are required

 

Extremely fast control in the heating-up and cooling time
• Fast reaction time after sudden temperature changes (less energy)
• High efficiency due to short cooling & heating-up times
• Control is of very good quality

 

Meeting the increased environmental awareness [41% of the CO2 emissions are caused by buildings]

Throughout the world, efforts are being made to save energy and conserve our planet's resources. VOGEL&NOOT is supporting these efforts with high-tech radiators and underfloor heating systems in order to permit efficient heat output in conditions of complete comfort.