Product info
Thanks to the ultra-modern FLOORTEC dry system, on-site humidity is eliminated and screed expansion joints are no longer required. This shortens the building time by several weeks. The FLOORTEC Dry system allows an extremely thin floor construction in combination with all top layers, and guarantees the most rapid temperature control, even heat distribution and short heating-up times. Thanks to the handy, compact dimensions of the components, rapid installation of the underfloor heating is guaranteed.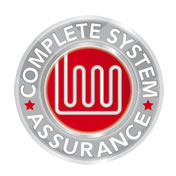 10-year guarantee. Maximum reliability in planning, installation and operation.
The Floortec complete underfloor heating systems from Vogel & Noot, with components that complement one another perfectly, are clearly superior to any system you could put together yourself. Planners, installers and users benefit from a new guarantee of simple fitting, outstanding service and safe operation for many years.
Have a look downwards for more information on underfloor heating systems with components that complement one another perfectly together with the complete system guarantee.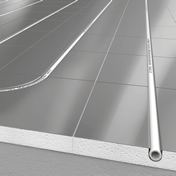 The FLOORTEC dry system is the best solution for old buildings, due to the low construction height. You will save energy and enjoy a healthy and welcoming environment – with a clear conscience, safe in the knowledge that you are protecting the environment.