Headquarter
Our headquarters are located in the green heart of Austria, in the middle of Upper Styria. The location with its traditional roots has proven to be gold right, also in times of intensive international buisiness activities. Both the location in Central Europe and the environment worth living in are essential factors for our professional, first-class performances.
Wartberg (Austria)
Rettig Austria GmbH
Vogel und Nootstraße 4
A-8661 Wartberg
+43 (0) 3858 601-0
Production plants
The radiators manufactured by VOGEL&NOOT meet numerous internationally recognised quality standards and the manufacturing processes at all of the production sites have been ISO certified.
In Europe, more than 40% of the CO2 emissions are caused by buildings. To update the whole heating system is one of the most important measures, to protect our environment sustainable.
cf. Prof. Rainer Hirschberg , VDI Nachrichten, Aachen 2006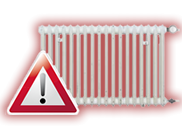 Spotlights
Added value with modern low-temperature radiators [Many benefits with panel radiators]

Compatible with all energy sources:
• Range of supply temperatures from between 90 ° and less than 40 °C
• Perfect for the combination with low-temperature heat sources (heat pump, solar energy …)

 

Enormous potential for cost reduction with new buildings & renovations:
• Approx. 15 % less energy costs with replacement radiators
   (as comp. with old element radiators)
• Thanks to high performance, only low system temperatures are required

 

Extremely fast control in the heating-up and cooling time
• Fast reaction time after sudden temperature changes (less energy)
• High efficiency due to short cooling & heating-up times
• Control is of very good quality

 

Meeting the increased environmental awareness [41% of the CO2 emissions are caused by buildings]

Throughout the world, efforts are being made to save energy and conserve our planet's resources. VOGEL&NOOT is supporting these efforts with high-tech radiators and underfloor heating systems in order to permit efficient heat output in conditions of complete comfort.

Factory-adjusted kv-setting [Saving of energy costs and CO2 reduction]

 

 

 

 

Panel radiators are delivered ready for double-pipe installation and with a factory-adjusted kv-setting, appropriate to the radiator output. Of course it is also possible to change the pre-adjusted valve setting when the equipment is operating at pressure.